Age Speaks for Itself:
Silent Voices of the Elderly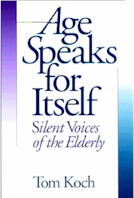 This is the long awaited third book in Tom Koch's trilogy on aging. Mirrored Lives was a detailed first person account of geriatric illness from the perspective of the caregiver. It was followed by A Place in Time; here the issue of elder care was more generally considered from the perspective of other care givers. Assumptions about elder care, and more generally about caring for the fragile, were challenged in the analysis of the commonalities of caregiver narratives.
Age Speaks for Itself completes the examination through the presentation of eleven separate narratives of the fragile. The introductory chapter argues that as a society we tend to possess a sense of animosity toward our elders. The images of age--the "greedy geezer" and the "suitcase granny"--are, it shows, constructions with little basis in reality. Koch reviews myths of age and compares them to the realities of the lives presented in this book. He critiques theories of age as a necessarily unique and last stage of human life. Instead, he concludes, longevity defines not a necessary difference, but a social state in which seniors are marginalized. The reason, he argues, is that we fear the fact of human mortality that age represents in our culture. This is an important and gripping look at the elderly, primarily through their own lives, and must reading for anyone who has ever thought about the implications of growing old in American society.
** Table of Contents **
Introduction: Nothing Succeeds Like Success
A Brocaded Brassiere with Red Knickers
Puck, and Damn Proud of It
A Russian Spring
A Nursing Life
The Teenage Bride
The Coward
Lloyd's Other Life
Lodgings
There was a Crooked Man
Who Walked a Crooked Mile
The Millennium Watcher
Discussion: The Experience of Age
Bibliography
Order Information
Available from Praeger Books, a division of Greenwood Publishing Group
Ordered through bookstores, or directly from the publisher (1-800-225-5800).